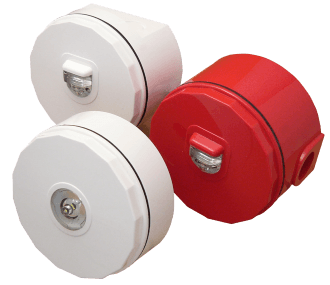 EN54 VADs 200 Series
Obsolete Product
EN54-23 Ceiling and Wall Mounted Visual Alarm Devices for Fire Systems
---
Elmdene's EN54-23 VAD range provides C-3-15 coverage. A single VAD can therefore cover a 10.5m room. It would take 4 x C-3-7.5 standard VAD's to cover the same area!
The devices have a wide input power range of 16V to 33V dc with dual connector pairs providing simple connection when wiring multiple devices. When more than one device is being installed they are automatically sychronized via the internal clock.
The FBx 200 series is offered in either Red or White with a choice of 3 bases:
Low Profile - IP33 Rating
Deep Base (opposite cable entries) - IP35 Rating
Deep Base (adjacent cable entries) - IP35 Rating
Approvals & Certification
For more details on this product range, including part numbers, please refer to the datasheet below or contact us.
---