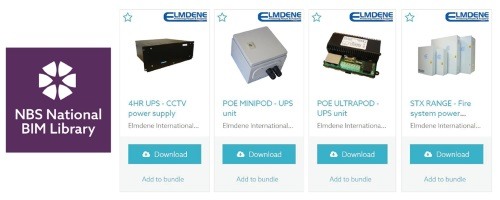 Elmdene are excited to announce that some of their product ranges are now available as BIM (Building Information Modelling) Object on the NBS National BIM Library.
Elmdene have selected products that provide back-up power to critical Security and Fire systems, to be authored to the NBS BIM Object Standard and made available on the BIM Library.
BIM objects are detailed information that defines a product and the dimensions that represents the product's physical characteristics. This is then presented in a consistent format that allows designers to use the object within the BIM environment.
Sharon Ramsay, General Manager at Elmdene, said:
"This is an exciting step for Elmdene as it's making our products available in the BIM format for the first time. Designers can now incorporate our products within their digital models of construction projects, ensuring security and fire systems have the appropriate battery back-up."
The products that have been authored into BIM objects include:
These are now available to download to work with IFC or Revit. To view, please visit https://www.nationalbimlibrary.com/en-gb/elmdene/.
---
Back to All News