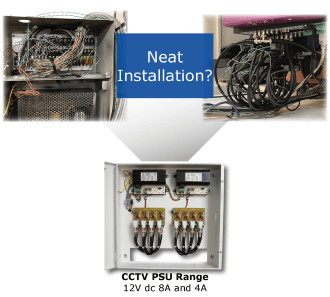 We are excited to announce the launch of our new 12V dc CCTV PSU range, available in 4A and 8A versions, for a professional and neat installation.
This unique range offers the installer a professional and neat termination junction within the PSU enclosure for the video signals between the camera and DVR, ensuring an easy and efficient installation. This is accomplished by utilising the 4 or 8-way BNC 'Loop IN – Loop OUT' connections provided on the Fused Output Modules. Providing flexibility and saving time on installation Not only are these units easy to connect but the enclosures are of a low-profile and compact design, with large cable access at the rear.
Key Features:
12V dc 4A & 8A models
Video 'loop through' connections for neat termination (75Ω)
Individual Fused Outputs
PTC or Glass Fuse (jumper selectable)
The CCTV PSU range will be available in July
For more information, visit our product page.
---
Back to All News