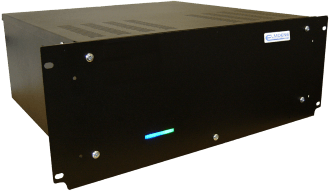 4HR-UPS™
4 Hours Standby Power for PoE IP CCTV Systems
---
The Elmdene 4HR UPS™ Range has been designed as a cost effective solution for providing extended standby power to critical security applications such as PoE IP CCTV.
The range is available in three different power variants: 8CAM, 16CAM, 32CAM
When used with the recommended standby batteries the devices will provide approximately 4 hours standby time for the camera system in the event of a mains failure.
All models are housed within a standard 4U 19" rack enclosure and providing a true sine wave 220Vac output for the powered devices.
For more details on this product range, including part numbers, please refer to the datasheet below or contact us.