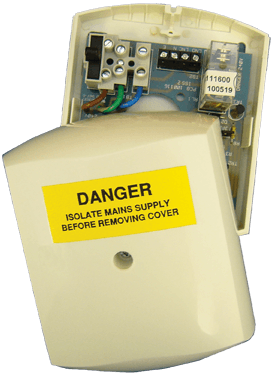 Mains Relay Timer
240V Mains Switch Unit with Variable Timer
---
Intended to facilitate the switching of 230V mains equipment e.g. lighting etc, using a low voltage trigger from an Intruder Conrol Panel or similar device. The unit features both Relay and Timer Modes, with the Timer continuously variable between 2-40 minutes (approximately) in this mode.
Featuring:
Timer mode
Normal Trigger Mode - Relay follows input trigger or resets on expiry of timer
Pulse Trigger Mode - Relay only resets on expiry of timer
NO/NC Contacts allows the load to be either switched on or off for the timed period
Relay Mode
Output follows input trigger, no timer function
Jumper Selection of Timer or Relay Mode
Lid Tamper
Model: MRT01
Supply: 12V dc
Current: 50mA
Trigger: 12V dc
Switch Load: Maximum 3A @ 240V ac
Timer: 2 - 40 minutes
Dimensions: 124L x 100W x 45D
Contact us for more information on this range.