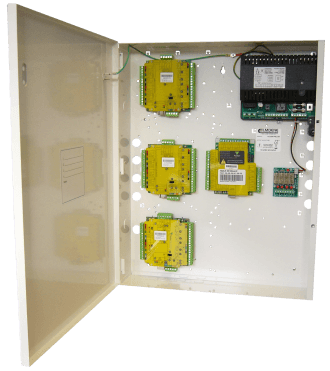 With different power options and enclosure sizes available, this new Access Control range offers the installer a choice of PSUs, for a variety of applications. Using this range could also mean cost-savings with some of the units having the capability to provide battery backed power for multiple door controllers, saving time and money on installing singular units.
The range also includes the Multi Access PSUs, that are supplied with a hinged cabling system and can provide either 12V or 24V whilst also offering an independent ancillary relay that can be used for applications such as a 'Fire' door release relay. The enclosure is also a larger design, which accommodates expander plates, should additional controllers be required; further adding to the flexibility this range is able to offer.
Elmdene will consider any adaptions of this range for bespoke products to suit your requirements. Screen printing of your company logo on power supply enclosure is also possible (MOQs apply).
Click here to find out more about the Access Control Range.
---
Back to All News