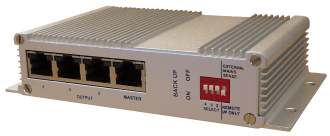 PoE Power Saving Module
Obsolete Product
PoE UPS 4 Channel Power Saver Module
---
When used in conjuction with a UPS device facilitates automatic de-selection of non-critical POE channels in the event of a mains fail condition occurring, ensuring only critcal channels are powered in order to provide longer battery backup duration and a reduced UPS capacity with consequent cost saving.
The POE-PSM-4 is a 4 channel device but multiple units can be linked together to provide selection of 8, 12 or more channels as required. Selecting the non-critical channels is achieved by setting DIL switches on the front panel; selection being confirmed by LED's.
For more details on this product range, including part numbers, please refer to the datasheet below or contact us.
---