Portsmouth, UK, January 2022: Elmdene is proud to announce a new Lifetime Warranty on core product lines.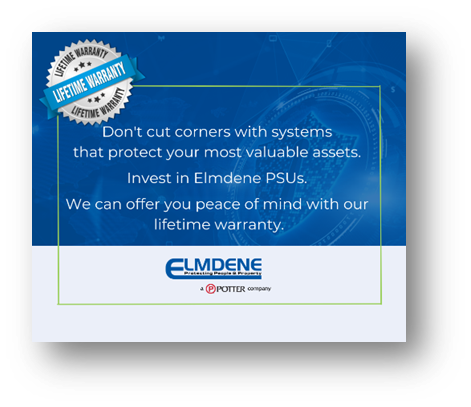 With confidence in the performance and reliability of Elmdene Power Supplies, a new extended warranty has been introduced. Designed in the UK and manufactured with the highest quality components, the Elmdene range of PSUs guarantees assurance and peace of mind of critical systems.
Install Elmdene products with confidence. "Our aim is simple: to provide customers with high quality and innovative products backed by first-class and ongoing support whenever our customers need it."
With PSU's running for 10 years at full capacity in Elmdene's test centre, minimal return rates and a rigorous testing process, Elmdene ensures that only the highest quality products are received.
Kelly Bard, Sales and Marketing Director for Elmdene, said, "This new warranty is testament to the commitment we have to our customers. We are confident that we supply high-quality, high-performing, and reliable products. This is now backed by our new lifetime warranty".
The Lifetime Warranty includes ALL 12V G Range and 24V G Range PSUs, G1224 Switchable range, ACCESS-PSU and ACCESS-UL-PSU Ranges, EN50131-6 GEN Range and EN54-4 STX, ST and STV Fire power supplies*.
*PSUexclusions include CCTV power supplies (12V and 24V VRS, VR Ranges) and POE-ULTRAPOD. This Lifetime warranty is product-dependent. Please check individual product specifications for warranty details.
---
Back to All News